I see every October through my Reds-colored glasses. I'll bet you do, too. I note the similarities in the teams that advance and where the Reds could have fit in had they done some things differently. I test and retest my theories about why teams win in October, and why they abruptly—but sometimes predictably—go home too early. Technology now affords the ability to watch the reaction of fan bases in real time, and note how many fans often have the same solutions to their favorite team's shortcomings, whether the front office spent a pittance on payroll or emptied a Brinks truckload of dollar bills into the players' lockers; whether they are analytic in thinking, or old school; whether their players have grit, or just glam; whether they use iPads in the dugout or an abacus.
The road to Yankee Stadium from my erstwhile home was urban and tangled. Route 4 in New Jersey across the George Washington Bridge and into the ever-present knot of New York traffic, down the Major Deegan Expressway, spitting out across the Macombs Dam Bridge to 161st Street and finally to the giant mausoleum in the Bronx.
It's been just as congested, convoluted and road-raged for Yankee fans, yet again rerouted from their self-appointed perch as the Lords of Baseball to forgotten also-rans in MLB's fall classic, also known as The CrapShoot.
I've especially enjoyed the bridge and tunnel boys getting home from their day jobs in Hackensack and Rego Park, waxing YouTube poetic on the necessary firings of Aaron Boone and Brian Cashman. These are delights I could barely have imagined a decade ago. But, now, every knucklehead with a navy NY snapback, a Shure mic and a basement internet connection can live in their own GM world of make-believe and become the MLB Network version of Rupert Pupkin.
Yankee fans want Aaron Boone gone the way Reds fans want David Bell sent to Siberia. He's their whipping boy. Their pound of flesh. The prevailing fan opinion is that Boone is too analytic-centric, too much a puppet of a Cashman front office that values numbers and iPads in the dugout above all else. They hate the way he sets the lineup, the way he handles his bullpen. Sound familiar?
One fan lamented the Astros "celebrating on our field, in our home, in our bedroom where my wife sleeps" (Godfather reference). Another labeled the Yankees "soft," and lacking leadership. Yankee fans look longingly at the failure to go after Bryce Harper hard enough in free agency, insisting the Steinbrenner family wants to put money in their pockets more than they want championships. They'll tell you Don Mattingly has that Yankee pedigree that Boone never possessed to be a worthy manager. They long for the return of the Golden Boy, Numbah 2, to set up shop in the front office, to send Cashman and his nerds packing, so real men can go about the business of restoring Yankee pride. They'll tell you the Yankees don't have enough "ballplayers," grinders like Brett Gardner or, you know, maybe Kyle Farmer?
The Yankees have set a "Championship or Bust" mentality. Ownership told their fans just getting to the playoffs every year is not enough. And that's all the fans in New York will now accept, so the bad takes go on and on from Vinny on the car phone in the Bronx to Frankie in Brooklyn behind the mic. They've created a monster of expectations. That Stay Puft man is pounding down Fifth Avenue in Manhattan as we speak.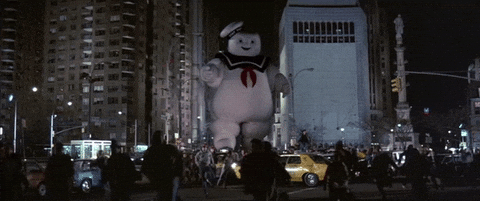 The Phillies are in the World Series. Your Reds-colored specs may see little difference between the 83 games the Reds won in 2021 and the 87 the Phillies won this season and think, "there but for the grace of Phil Castellini go us." Or, something like that.
I prefer to look at payroll. Philadelphia spent $255M, one Wade Miley contract less than the Yankees in 2022. For 9 of the last 11 seasons, the Phillies couldn't finish a season a game over .500. Last year, they crawled to an 82-80 finish. They've put the "bank" in Citizens Bank for years. 2013 saw Roy Halladay ($20M), Cliff Lee ($25M), Cole Hamels ($24M), and Ryan Howard ($20M)—the equivalent of 4 Votto contracts—sitting atop a mountain of expectations. Their payroll would eventually drop off in 2016 and 2017, but the margin call was only temporary. The signing of Bryce Harper ($330M), Andrew McCutchen to a contract that would pay the declining ballplayer $20M in 2021, along with the free agent acquisition of Zack Wheeler ($23M per), JT Realmuto ($23M per) and Castellanos ($20M per) looked to be money tossed to the wind once more.
But a funny thing happened with the front office. Ownership doubled down before the 2021 season by hiring Dave Dombrowski as their president of baseball ops. Dombrowski buys ballplayers the way Imelda Marcos once bought shoes. He took the Red Sox farm system apart in the service of buying a World Series Championship in 2018, before being fired little more than a year later. The money he gave to Chris Sale, Nathan Eovaldi, and David Price was part of the reason the Red Sox payroll became so bloated with bad contracts that Mookie Betts went buh-bye to Hollywood.
So, it's no surprise Dave would add Middletown, Ohio's finest, Kyle Schwarber, for a mere $19M to the Everest of payroll already guaranteed. Despite all this, the Phillies did everything they could in the waning days of the season to give away the last playoff spot to the Milwaukee Brewers, who said, "no thanks, we're good," losing 6 of their last 10 games.
Here's my point: while the '21 Reds and '22 Phillies may have only been 4 wins apart, they were many millions apart in payroll, in players who had the talent to rise to the occasion, even if only for a few moments. In the small sample-size cauldron of the playoffs, it only takes one highly paid star to go off and swing a series. The more you have, the better your chances of hanging around in October.
Multiple Bryce Harpers > Multiple Brandon Drurys.
Get ready for the reclamation of the Dusty Baker legacy in Cincinnati as the Series begins. If you want to root for Dusty to finally get that ring, I get it. I've long said I'd love to sit down with Baker and listen to him tell stories and impart wisdom. He's a renaissance guy, far from the typical jock stereotype who knows little of life outside the white lines of the game he plays. He could tell you what's wrong with your backyard garden or help you with your wine selection at the dinner table. He is by all accounts a good man who I would guess is largely beloved by his players wherever he's managed.
I just could never get over how he mismanaged the Reds on the field. From his handling of Aaron Harang, who was never the same after his manager had him throw 239 pitches in the span of 8 days, his refusal to start Aroldis Chapman because in his words, "that's just the way it is," the insistence on playing a fading Scott Rolen in the 2012 NLDS because it was "Scottie's last rodeo," his willingness to let Brandon Phillips abuse a reporter in his office in full view of everyone, to his old school "clogging the bases" mentality, well, it all left me more than ready to move on.
Some want the best team to always be crowned champs. It's never going to work that way. For that to happen, you'd have to get rid of the playoffs altogether and simply have the NL team with the best record play the AL team with the best record.
We got half of that this year and that's about as good as we can expect. This time of year is now and forever about TV revenue and that means more teams and more games. You could minimize chances of interlopers like this year's Phillies by shortening the regular season and making all series longer, eliminating 5-game series and maybe making the World Series 9 games. You could make the team with the worst record from each league play each other in a one game elimination. You could make the byes more meaningful by giving the best team in each league a pass all the way to their respective league championship series.
But maybe the best answer is to just understand that like March Madness, upsets are not a bug, but a feature, and learn to live with it.
And as always, keep increasing that payroll.