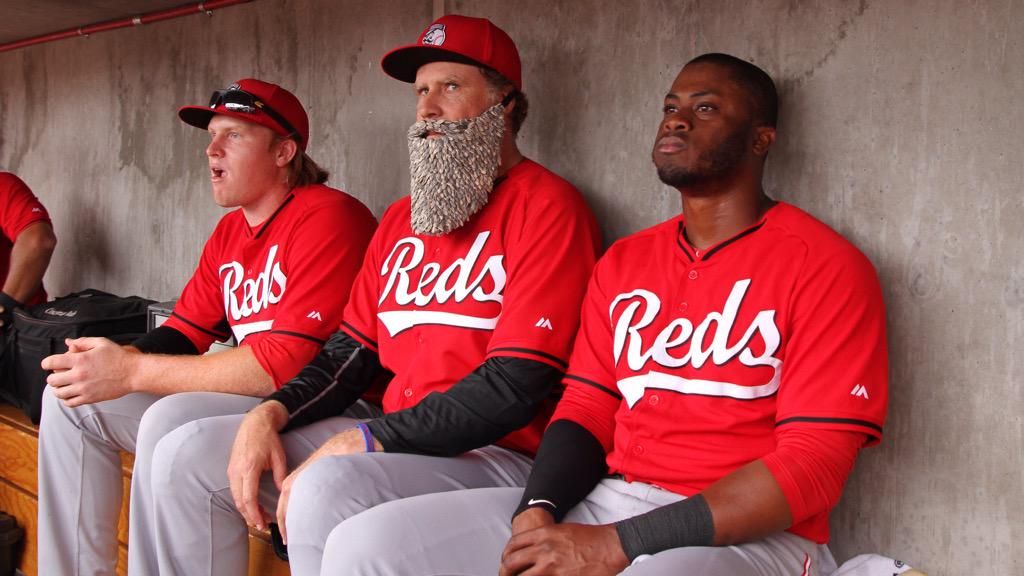 Another win for the good guys, marking the second big blowout the Reds have been on the winning side of this year. This one a bit unorthodox as each team had Will Ferrell (yes, that Will Ferrell) playing for them at some point in the game, playing left field for the Diamondbacks in the seventh and third base for the Reds in the eight.
Final
R
H
E
 Cincinnati Reds (5-5-1)
12
19
2
 Arizona Diamondbacks (7-3-1)
4
9
0
W: Leake  L: Webster
| Box Score | MLB.com Recap | AP Recap |
Pitching: Mike Leake made his second start of Spring, pitching three innings. He allowed only two hits and one walk to go with his two strikeouts. This Spring he now has five innings pitched, allowing two hits, one walk, and has gotten five strikeouts. I'll take more of that in the regular season, please. Nate Adcock came in for two innings and allowed three hits and a walk for one run to keep his ERA at 4.50 in four innings this Spring. Dylan Axelrod came in for a perfect sixth inning to lead to a shaky seventh by Amir Garrett who allowed three hits and three unearned runs on a fielding error by Kyle Waldrop. Rasiel Iglasias came in for the final two innings of the game and allowed only one hit to go with his one strikeout, extending his number of innings without allowing an earned run to five.
Hitting:  The Reds bats were alive early and often in this game, starting the first inning off with four straight singles, eventually resulting in three runs and the entire batting order making it to the plate before it ended. When it was all said and done, thirteen different Reds players managed to reach base safely, seven of which managed to do it at least twice. Brayan Pena managed to break his 0-12 skid by going 3-4, 2B, 1 R, 3 RBI. Todd Frazier and Brandon Phillips, previously 1-9 and 2-12 respectively, both had good days. Frazier went 2-4, 2B, 2 R, 3 RBI, and Phillips 3-4, 2 2B, 2 R, 1 RBI. Eight of the nineteen hits went for extra bases, though admittedly two of them were hit to Will Ferrell in left field.
The Rest:
– Speaking of which, Ivan De Jesus probably had the easiest triple of his career with Will Ferrell playing in left field for the Diamondbacks. John Fay probably says it best.
John Fay @johnfayman  ·  2h 2 hours ago
DeJesus lines one to the wall for a triple. Ferrell doesn't run like Billy Hamilton, or Joey Hamilton for that matter. #reds
-Two errors were made today, one on a throw by shortstop Eugenio Suarez (his second error this Spring) and one fielding error by outfielder Kyle Waldrop (his first). Those two make thirteen total errors in eleven games this Spring, eleven of the errors were by players who aren't starters. Those players who are fighting for a spot on the bench might want to take some more fielding practice, because if there's one thing we do know about the Reds, it is that Uncle Walt will make sure the Reds have a good defense and errors are a quick way to lose out on a spot. The Reds only committed 72 errors in 162 games last year, least in all of MLB.
Next Up:
The Reds take on the Dodgers at 10:05pm EST. The starters will be Jason Marquis for the Reds and Brandon McCarthy for the Dodgers as Marquis goes for his third shutout start of the year to strengthen his bid for the fifth spot in the starting rotation. The game will be shown on MLB Network on delay and I will be back for the recap.