Forty-four years ago yesterday, the Reds played their last game at Crosley Field. Crosley was actually the third Reds ballpark at the corner of Findlay and Western, capping the club's 86+ season run at the site. Here, from deep in the RLN Photo Vault, are some looks at Crosley Field. The Palace of the Fans, the Reds ballpark from 1902-11, was demolished and Crosley erected in the same location between October 11. 1911 and April 11, 1912 (the same month that the Titanic sank and Fenway Park opened).
This rare video was unearthed (literally) in remote Canada, and shows the 1919 World Series, including an shot of the ballpark from an "aero-cameraman" in a biplane. Here's a shot of Reds fans lined up for tickets to the 1939 World Series. Embed from Getty Images
This is Matty Schwab, Sr. He was on the Reds ground crew from 1894 (assisting his father) through 1963, and laid the original sod at Crosley. He's also credited with inventing the modern base design, drainage systems, and several major league scoreboards. Schwab and Bernie Stowe (who worked together for 17 seasons) created a direct link to 120 years of Reds history. I can't imagine any other organization stretching back that far, with just two employees.
This aerial shot shows how the construction of I-75 tore up the neighborhood around Crosley, but also shows how limited the park was in terms of seating capacity and parking.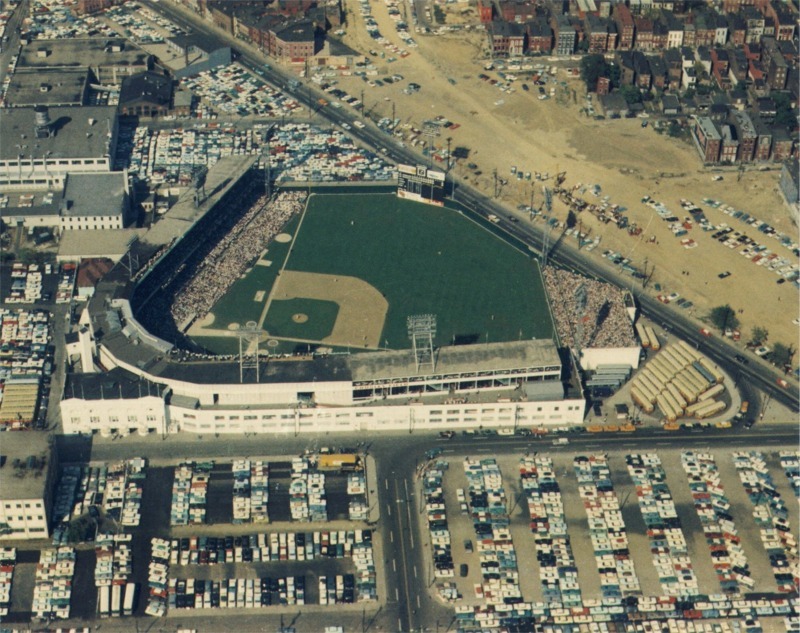 The famous scoreboard from the '60s…
 
…and today, where it lives on at a youth baseball complex in Blue Ash, Ohio.
http://singlehandclapping.com/Cincinnati/slides/IMG_0081.jpg
 
Here's a great color shot from August 1969.
  Edited:  Inexplicably, the night week before the Reds last game in Crosley, the ballpark hosted a show by Iggy Pop and the Stooges. [Note: Further research indicates that the Iggy Pop concert was actually on June 13, not June 23. (Getty Images' captions are notoriously inaccurate about dates.) Apparently, it was a rock festival, also including Grand Funk Railroad, Alice Cooper, Bob Seger, and Mountain. To prevent damage to the infield, concert-goers were required to stay on the dirt basepaths. I can't even imagine.]
Embed from Getty Images
 
Here are Johnny Bench and Wayne Granger celebrating the Reds' win in the final ballgame at Crosley.
Embed from Getty Images