The Reds have acquired utility man Willie Bloomquist from the Royals for cash.  The headline from our new buddy Rob Neyer is pretty amusing:  "Reds acquire Bloomquist, clinch pennant."  Rob is understandably perplexed as to why Walt Jocketty would trade for a 684-OPS hitting journeyman, who's not eligible for the post-season or signed for next year.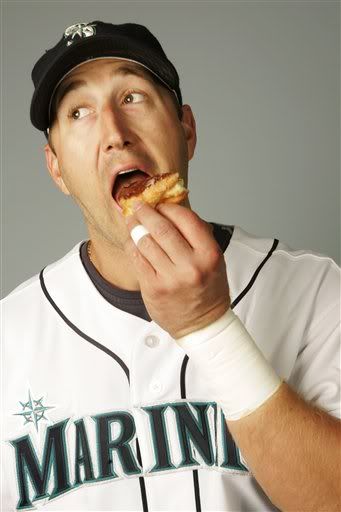 But Reds fans know that there's a method to this madness, and it indicates something that's perhaps more worrisome.  First, the Reds have been going without any backup outfielders since Jay Bruce was injured on August 30.  Bruce has been "expected back in a couple days" for two weeks, now. Meanwhile, the Gomes/Stubbs/Heisey trio is worn out and providing ever-diminishing returns, and when Heisey hurt his arm, we were stuck with Miguel Cairo in RF.  Dusty Baker's hands have been tied – he's been unable to pinch hit or double-switch for any of his outfielders, let alone give someone a rest.  Wladimir Balentin seemed due for a call-up, but then he got hurt.  Yonder Alonso's outfield defense must have terrified the children of Louisville, because he's not even been mentioned.
All of which leads us to this:  I'm thrilled that Willie Bloomquist is joining the Cincinnati Reds in the middle of a pennant race, even though he's the very definition of "replacement player." I'm more than happy to sacrifice Philippe Valiquette or Carlos Fisher to a potential waiver claim (though I assume Edmonds goes back on the 60-man DL, despite being activated over the weekend).  With all the bitching we've done about the roster situation, I'm not going to complain, especially if all Jocketty gave up was some of Bob Castellini's cabbage.   UPDATED:  Tom Groeschen reports on Twitter that Enerio del Rosario was DFA'ed to make room.  Nice young arm, but not the key to any future Fountain Square celebrations.
It's very unlikely that Bloomquist does anything to help the Reds win the division title.  Guys with a .297 wOBA rarely do.  But even if he just gives each "starting" outfielder a day off, I'll be happy. Just don't use him Wednesday against Joe Saunders.  He's 0 for 11, career.
The real worry, as I alluded to above, is what this says about Jay Bruce.  Mark Sheldon's article says that Bruce will be back tomorrow, but that he "won't completely heal 100 percent until the winter." That doesn't sound good at all.