In response to Mike Coolbaugh's tragic death, MLB is requiring base coaches to wear protective headgear. At least one aging little elf is none too happy, because he thinks it makes him look uncool. One spring training game in, Braves first base coach Glenn Hubbard was already bitching and moaning (from the AP):
Glenn Hubbard trotted on the field Wednesday wearing a helmet — and feeling downright ridiculous.

"You know what it feels like?" he asked before a spring training game. "Look at that kid over there."

Hubbard pointed toward a young batboy standing at the edge of the Braves dugout, his head dutifully covered by a helmet.

"That's what I feel like," Hubbard said, not bothering to hide the disgust in his voice. "A batboy."
Poor Glenn. God forbid a 50-year-old man, who wears knickers to work (not to mention ill-fitting blue-blockers, a mini-mullet, and an abysmal goatee), be made to look silly. Yes, it's truly unfair for Glenn Hubbard to look anything less than his usual cool as he slaps younger men's butts and safeguards their discarded batting gloves.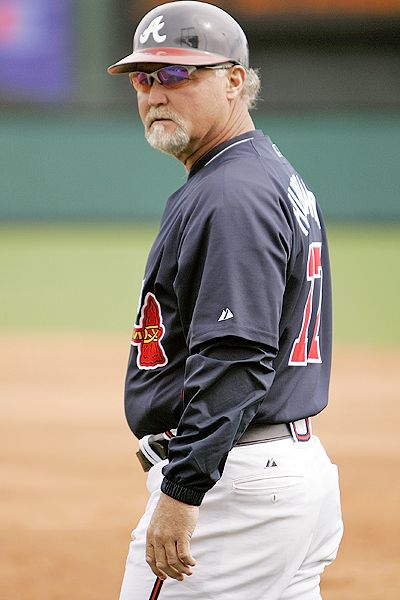 I'm sure his family would definitely risk the chance of traumatic brain injury, if only Glenn could maintain that dapper, professional look that he spent so long cutivating. You know, like this:
At least he had his dignity.